Last year I had the pleasure of writing a Worship article for HomeFront. I shared about my daughter Mazie and how she and I are both deaf in our right ears due to genetics. After writing that article, I really couldn't have prepared myself for the road we would soon travel.
Mazie experienced three hospital stays over the next six months. She had to be hospitalized for four to five days each time due to recurring infections. She kept developing an abscess behind her right ear due to an angry cyst embedded in her middle ear. The hospital stays consisted of IV antibiotics and simple surgeries to drain the abscess. We were not prepared to hear that at two years old, Mazie is the only known case in the world with this particular presentation. There was an urgency to have highly trained surgeons perform a very difficult surgery to remove the cyst. It was located next to the facial nerve—so avoiding the nerve would be crucial. The facial nerve damage could be minor, but it could also be severe and alter Mazie's life indefinitely. As a parent, you never want to find yourself in the doctor's office hearing all of the worst-case scenarios regarding paralysis and your child.
During this time of second opinions, CT scans, MRIs, and multiple follow-up appointments (and hearing more about all the things that could happen), I became numb. I knew I was on a slippery slope when I began to cry whenever anyone would say something slightly rude or was in even a minor conflict with me. I cried when McDonald's was out of sweet tea one day. I cried on the phone with a doctor's office when they said I owed them money and I knew I didn't—but I couldn't effectively communicate with them. If Tommy, my husband, even looked at me sideways … yep, I cried.
In the swirl of emotions and uncertainty, I stopped praying. I wasn't mad at God. I just felt void of words. I listened as my friends and family encouraged me and said they were praying for Mazie. I kept thinking the cloud would lift and my normal, eloquent, and authoritative prayers would return. Nope. I think that in the thick of it I began to feel like my inability to pray could affect the outcome of the surgery. What if something happens and Mazie dies? What if she is paralyzed? Might this happen because I wasn't praying day and night for God to protect Mazie?
After much consideration, we felt confident to allow Lucile Packard Children's Hospital at Stanford University to perform this unique surgery. Once a date was set, everything became very focused. People all over the country started setting up times to pray for our family and Mazie. We had friends gather, elders gather, and people who have never met us gather for prayer. We even prayed over the phone with mentors. I shared Mazie's story on my social media accounts and received a great outpouring of support there as well.
At one point, I became vulnerable with a few close friends about my lack of prayer and my fears. One friend reminded me that hundreds of people were praying and that it was all right for me to rest in those prayers. Another friend reminded me that God wouldn't allow something tragic to happen to Mazie because I didn't pray enough. Good grief! These people were right! I was encouraged.
As the surgery approached, I began to feel peace. The tears were long gone; I had none left to cry. I slowly found my way and began to prepare to get on that plane with my beautiful and happy two year old to face this surgery head-on.
Mazie went into surgery the morning of March 31, 2016. After being told the surgery could take up to 12 hours, we were overcome with joy when the doctors finished in seven and a half. Mazie had done great! The surgeons had successfully removed the cyst and avoided damaging her facial nerve. We were in a room by 7:00 p.m., and by 11:00 a.m. the next day they said she could go home. We were in shock. They said she had done so well and looked so good there was no reason to keep her in the hospital! We had been prepared to be there two or three days.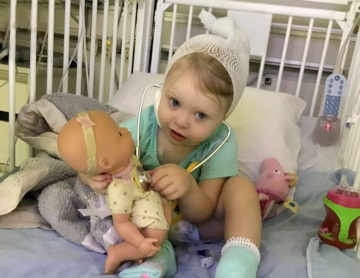 Mazie was happy to leave the hospital and acted like she hadn't undergone major surgery. We were all amazed, and it was truly a miracle to see her recovering so quickly.
Friends and family stood in the gap for me when I had no words to pray. I knew in that moment that I could count on what I knew to be true about God … He answers prayers!
I knew God was hearing the prayers for Mazie. I knew He was faithful—no matter what the outcome could be. In the depths of my being, even when I didn't have words, I knew it was all going to be okay. There is something very basic about having faith—when you truly believe in something, you know it's real.
Now faith is confidence in what we hope for and assurance about what we do not see. Hebrews 11:1a
A special thank you to Dr. Kay Chang and Dr. Mai Thy Truong for being so brilliant and caring enough to become surgeons specializing in the area of ear, nose, and throat. We certainly feel confident we were guided to you for this very season.