* For an easy metric conversion chart, search the Internet for "metric kitchen."
PAN-FRIED CINNAMON BANANAS
Prep Time: 5 min. Cook Time: 5 min. Yields: 2 servings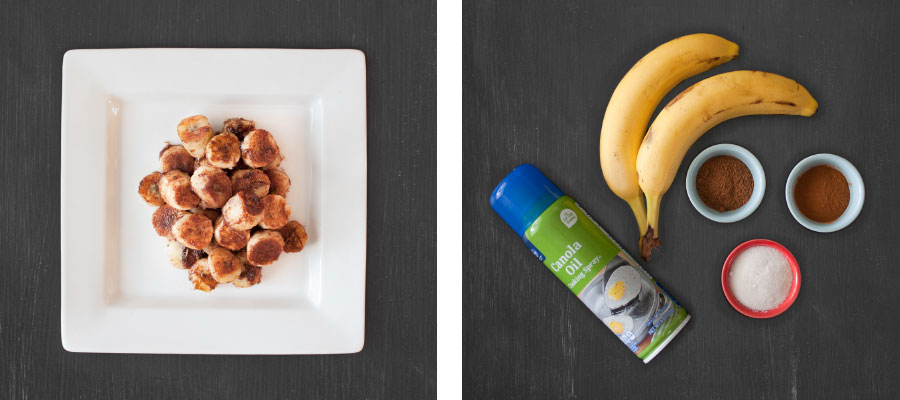 WHAT YOU'LL NEED
• 2 slightly overripe bananas
• 2 tablespoons sugar
• 1 teaspoon cinnamon
• 1 teaspoon nutmeg
• cooking spray
WHAT YOU'LL DO
1. Slice the bananas into rounds, approximately 1-inch thick.
2. In a small bowl, combine sugar, cinnamon, and nutmeg.
3. Spray a large skillet with cooking spray. Warm over medium heat.
4. Add the banana rounds and cook on one side for about 2 to 3 minutes.
5. During the last minute of cooking on the first side, sprinkle about half ½of the cinnamon mixture over the banana rounds.
6. Flip the rounds to the other side, sprinkle with the remaining cinnamon mixture, and cook about 2 to 3 more minutes, until the bananas are soft and warmed through.
7. Serve with toast or a bowl of yogurt for a yummy back-to-school breakfast.
BANANA SUSHI
Prep time: 10 min. Yields: 1 roll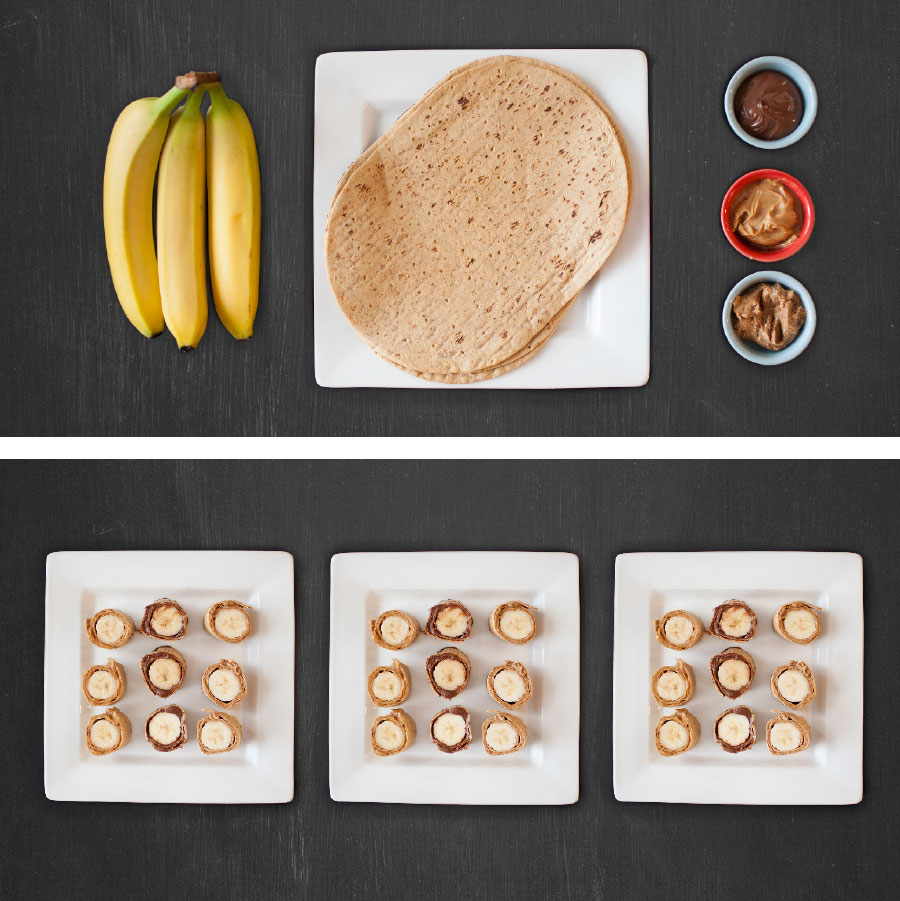 WHAT YOU'LL NEED
• 1 tablespoon Nutella, peanut butter, or almond butter
• 1 banana per roll
• 1 whole wheat wrap per roll
WHAT YOU'LL DO
1. Lay your wrap on a breadboard and slather with Nutella or nut butter.
2. Place the banana on top of your coating.
3. Roll the wrap as you would sushi (or a burrito).
4. Cut into 2-inch sections and enjoy!
BREAKFAST BANANA POPS
Prep Time: 10 min. Yields: 4 pops
WHAT YOU'LL NEED
• 2 bananas
• yogurt of choice
• granola
• add-on ideas: mini chocolate chips, coconut shreds, cinnamon sugar, raisins, etc.
• popsicle sticks
WHAT YOU'LL DO
1. Pour granola into a very shallow dish or plate.
2. Peel bananas, cut in half, and insert popsicle sticks.
3. Dip bananas into yogurt—or spread yogurt on bananas with a butter knife or small spatula.
4. Roll into granola and add-ons.
5. Place on a tray lined with parchment or waxed paper and freeze.
6. Store uneaten pops in the freezer until ready to serve!