Recently, I recognized that when someone asks me the question, "What needs to be done?" my answer is almost always, "FOOD! Deliciously good food!" Perhaps it's because my mother, my aunt, and my grandmother always answered that question in the exact same way. There's a celebration? Let's bring cake! Someone experienced a loss? A casserole belongs in her oven. A new family just moved in down the street? Let's introduce ourselves with an overflowing plate of homemade chocolate chip cookies. Food can work as a bridge to cross further into someone's story or current circumstance. From there, we can continue to ask the Holy Spirit what else needs to be done for those in our community. Here are some of my favorite ministry meal options that I enjoy serving to others.
* For an easy metric conversion chart, search the Internet for "metric kitchen."
Taco Soup – Family Friendly
This flavorful soup is a great meal to share and very family-friendly. Even small kiddos learning to eat can pick up and swallow the softened beans and chicken bites. You can bring it hot and ready to serve, or make it ahead of time and the receiver can quickly reheat it on the stove or in the microwave. This soup is even better for lunch the next day, if there happen to be any leftovers.
Prep Time: 15 min. Cook Time: 30 min. Serves: 6–8
2 c. diced cooked chicken (can also use canned chicken)
2 (10 oz.) cans diced tomatoes with green chilies
1 (16 oz.) can chili beans
1 (15 oz.) can pinto beans
1 (15 oz.) can corn
1 (15 oz.) can black beans, drained
1 (1 oz.) package taco seasoning
1 1/2 c. water or chicken broth
optional toppings: shredded cheese, crushed tortilla chips, and sliced avocado
1. In a large stockpot, combine all ingredients and bring to a boil.
2. Once soup has reached a boil, bring the heat down and simmer uncovered for 30 minutes.
3. Optional: Top with shredded cheese, crushed tortilla chips, and sliced avocado.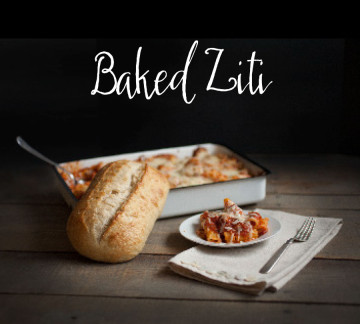 Baked Ziti – Comfort Food
Whether you are caring for a family with a new baby, or helping a friend out while her spouse is out of town, this pasta dish is a crowd pleaser. It can also work as a delicious vegetarian meal by omitting the sausage. This is a great dish to bring over hot from your kitchen, or as a drop-off meal with a note for how long to bake it in the oven. Combine it with a bagged Caesar salad mix and a loaf of garlic bread to round out the meal.
Prep Time: 20 min. Cook Time: 25–30 min. Serves: 8–12
16 oz. ziti pasta
16 oz. ricotta cheese
3 c. shredded mozzarella cheese, divided
4 links fully cooked Italian chicken sausage (or another sausage of choice)
1 tbsp. extra virgin olive oil
3 c. red pasta sauce, divided
3/4 c. shredded Parmesan cheese
1. Preheat oven to 350 degrees Fahrenheit. Boil pasta until almost al dente; drain.
2. In a large mixing bowl combine pasta, ricotta cheese, and one-and-a-half cups mozzarella cheese.
3. Chop sausage links into bite-size pieces; stir into pasta mixture.
4. Coat bottom of a large baking or casserole dish with extra virgin olive oil.
5. Pour and spread one-and-a-half cups of pasta sauce on the bottom of the dish.
6. Add pasta mixture to baking dish, spreading evenly. Pour remaining sauce over the pasta mixture.
7. Cover with the remainder of the mozzarella and Parmesan cheese.
8. Bake for 25 minutes or until bubbling. Remove from oven and let stand five minutes before serving.
Pot Roast with Potatoes and Carrots – Slow Cooker
Deliver in a slow cooker or arrange meat and veggies in a casserole dish or disposable foil container with broth on the side to ladle over meat when served. Include a pitcher or bottles of sweet tea to round out the feel of southern-style home cooking.
Prep Time: 10 min. Cook Time: 8–9 hrs. Serves: 4
2.lbs. beef chuck roast
1 c. beef broth
1 tbsp. plus 1 tsp. Worcestershire sauce
1 tsp. dried Italian seasoning
2 tsp. onion powder
1 tsp. garlic powder
salt and pepper, to taste
8 red potatoes, scrubbed and rinsed, then diced into 1" chunks
1 (12 oz.) package baby carrots
optional: yellow onion, peeled and quartered
1. Place chuck roast in a slow cooker. Pour beef broth over roast, and drizzle with Worcestershire sauce. Sprinkle with Italian seasoning, onion powder, garlic powder, and salt and pepper. Cover and cook on LOW heat for seven hours.
2. Remove roast to a large plate or cutting board, reserving broth in slow cooker. (The roast should be fall-apart tender, so it will likely break apart when you lift it out.) Add diced potatoes and baby carrots to slow cooker in broth (the broth should cover the veggies), return roast to slow cooker, placing it on top of the vegetables. Cover and cook on HIGH for an additional one to two .hours, or until vegetables are tender when pierced with a fork.
Potato Bar – Vegetarian
This is a family-friendly, hearty meal and is a good option for vegetarians. Prepare the toppings and package them individually so family members can top their potatoes with what they like. Hot, foil-wrapped potatoes can be stored in a cooler for up to four hours. Preheat the cooler with hot water beforehand; empty and dry it right before adding the hot potatoes. You can even make extras to be reheated and served the next day.
Prep Time: 5 min. Cook Time: 40–50 min. Serves: As many as you want to make
russet potatoes, 1 for each family member
oil
aluminum foil
toppings:
butter (try whipped or garlic butter)
chives
cheese
sour cream
vegetables: broccoli, asparagus, grilled corn, fresh tomatoes, sautéed mushrooms, even beans. The possibilities are endless!
1. If possible, purchase potatoes that are a uniform size so they cook evenly.
2. Scrub potatoes under water and dry them.
3. Spray or rub potatoes with oil.
4. Use a metal fork to poke a few holes in each potato. This keeps them from exploding when they cook. Don't do this too far ahead of baking or the fork holes will oxidize and turn dark.
5. Place potatoes on a rimmed baking sheet, and bake at 400 degrees Fahrenheit for 50–60 minutes, until soft.
Thick and Chewy Chocolate Chip Cookies – Classic Sweet Treat
This is my all-time favorite chocolate chip cookie recipe. The cookies are soft and chewy and make it hard to only eat one. By themselves or warmed and served with a scoop of ice cream, they are a great addition to any meal. You could also welcome a new neighbor by making a batch as part of a "Welcome to the Neighborhood" packet with addresses to nearby grocery stores, restaurants, and your favorite parks or activities.
Prep Time: 10 min. Cook Time: 15 min. Yields: 18 large cookies
2 c. plus 2 tbsp. all-purpose flour
1/2 tsp. baking soda
1/2 tsp. salt
1/2 tsp. cinnamon (optional)
3/4 c. (1 1/2 sticks) unsalted butter, melted and cooled until warm
1 c. light or dark brown sugar, packed
1/2 c. granulated sugar
1 large egg plus 1 egg yolk
2 tsp. vanilla extract
1 1/2 c. semisweet chocolate chips

1. Adjust oven racks to upper and lower middle positions and heat oven to 325 degrees Fahrenheit. Line two large cookie sheets with parchment paper.

2. Whisk flour, baking soda, salt, and cinnamon together in a medium bowl; set aside. With an electric mixer, mix butter and sugars on medium speed until thoroughly blended. Beat in egg, yolk, and vanilla until combined. Add dry ingredients and beat at a low speed just until combined. Stir in chocolate chips.

3. Roll one-fourth cup dough into unsmooth balls. Place dough onto cookie sheet, leaving two inches between each ball. Bake for about 15 minutes, reversing position of the cookie sheets halfway through baking (from top to bottom and front to back), until cookies are light golden brown and outer edges start to harden, yet centers are still soft and puffy.

4. Cool cookies on sheets. When cooled, peel cookies from parchment paper.