There are about 10 billion galaxies in the observable universe! The number of stars in a galaxy varies, but assuming an average of 100 billion stars per galaxy means that there are about 1,000,000,000,000,000,000,000 (that's one billion trillion) stars in the observable universe! And just think: Scripture tells us God placed each one of those billion trillion stars and calls them by name! How great is our God?
This month, consider making this Star Mobile as a reminder of the vastness of all that God created and the fact that He has entrusted it all to us. This mobile will light up your children's room and serve as a reminder that we have been entrusted to be a light and go into all the world to share the gospel.
What You'll Need to Make the Star Mobile:
•glow-in-the-dark stars and/or card stock star cutouts
•fishing line
•hot glue gun and glue sticks
•2 embroidery hoops (e.g., 8″ and 10″)
•craft paint
•paintbrush
•permanent marker
What You'll Do to Make the Star Mobile:
1.Paint the embroidery hoops.
2.Once paint is dry, write the verse Psalm 147:4 around the outside edge of the larger hoop.
3.Lay the stars in 11 straight lines of varying lengths.
4.Put a drop of hot glue on the back of 3 to 4 stars at a time.
5.Attach the fishing line to the back of the stars—leaving at least 6 inches of string at the top
6.Separate the hoops into 4 pieces.
7.Tie each strand of stars around the inside layers of the embroidery hoops—5 on the smaller hoop and 6 on the larger hoop.
8.Trim off excess fishing line at the top and bottom of each strand of stars.
9.Use fishing line to attach the 2 hoops together about 5 inches apart; the smaller hoop should hang below the larger hoop.
10.Tie four 8-inch pieces of the fishing line to the larger hoop and bring the lines together at the top; tie them to create a way to hang the mobile.
11.Connect the outside layers of the hoops back to their respective circle of stars.
12.Display in a place in your home where the stars will "charge" during the day and then glow brightly each night.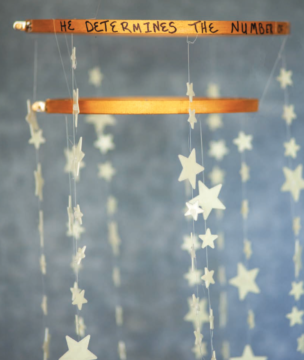 He determines the number of the stars and calls them each by name. Psalm 147:4