Editors Note for February 2015:
Our world is changing. Technology links our continents like never before. Within seconds, we hear about triumphs and tragedies happening in faraway places. With this amazing knowledge comes deep responsibility for our neighbors both across the world and next door.
This month's family verse reminds us of our responsibility to follow Jesus' command to love our neighbors. And our neighbors don't just live in the next house over—although beginning there is an important first step.
The family time recipe enables you to take your dinner on the road as you walk your neighborhood and pray for your neighbors. Traditions features a beautiful story from Dreaming of More by Michelle Anthony. She shares how the children in her ministry responded when they recognized their responsibility to care for the people and things God had entrusted to them. You'll be encouraged as you hear how God can speak to our children and grandchildren.
We hope this issue of HomeFront will not only awaken you to your responsibility to love and care for your neighbor but also equip you with easy-to-implement ideas and action steps. We pray that the word responsibility will no longer feel like a negative word or another obligation—instead, you'll see it as an inspiring word, one that communicates how much God believes in your family! God has entrusted so much to us because He knows that with His Spirit working within us, we can accomplish great things for Him.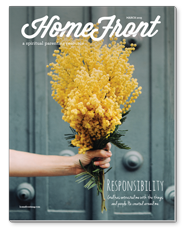 Get your own copy of the March 2015 issue.