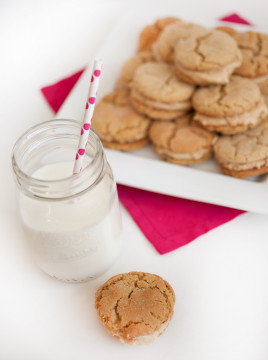 Have you ever been identified by a recipe? You know, that one special thing everyone asks you to bring when they invite you to a party. It's your specialty and no one else can make it quite like you do. Well, for me, it's these Easy to Make Peanut Butter Cookies. It doesn't matter the holiday or event, these cookies are a hit every single time. Believe me, I know. I'm asked to make them everywhere I go!
Prep Time: 20 min.
Cook Time: 10–12 min.
Yields: 16 sandwich cookies
Ingredients
Cookie Ingredients
1/2 cup butter, softened
1/2 cup creamy peanut butter
1/2 cup sugar, 1/4 cup additional sugar for rolling
1/2 cup brown sugar
1 egg
1/2 teaspoon vanilla
1-1/4 cups sifted flour
3/4 teaspoon baking soda
1/4 teaspoon salt
Frosting Ingredients
1/4 cup butter, softened
1/4 cup cream cheese, softened
1 cup powdered sugar
1/2 teaspoon vanilla extract
1/4 cup peanut butter (either creamy or chunky)
1/4 cup brown sugar
What You'll Do
Cookies
Preheat oven to 375° F.
Mix the first 6 ingredients.
Add the rest of the ingredients.
Mix well.
Roll into small balls, then roll in sugar. Place cookie balls on parchment paper.
Bake for 10–12 minutes on ungreased cookie sheet. Ovens vary so your baking time may be shorter. Just keep an eye on them.
Frosting
In a large bowl, beat together the butter, peanut butter, and cream cheese with an electric mixer. With the mixer on low speed, add the powdered sugar a little at a time, then mix in the brown sugar until smooth and creamy. Add the vanilla extract.
When the cookies have cooled, frost one cookie and top with another.