OUR HISTORY
Noah's Light Foundation was founded by Amber Larkin while her son, Noah, was being treated for medulloblastoma, a highly malignant brain tumor. Many months of research, meetings with doctors, and observations revealed several hidden facts about childhood cancer research, but one was most jarring—that not enough money was focused on finding a cure specifically for children.
Amber and the founding board members of Noah's Light decided that the organization would not only help tomorrow's children, but today's. The fact is, families cannot wait for answers. That is why the foundation is seeking to fund research that can be moved from the bench to the bedside as quickly as possible.
Noah has always been the inspiration for creating this Foundation, however, this foundation is dedicated to all children and families struggling with pediatric cancer, particularly Isaac Magoun Price and his mother, Amy Price (Amber's cousin). At the age of 10, Isaac died from PNET brain cancer, and soon after, Amy died of a broken heart. Isaac and Amy are both missed and in their memory, Noah's Light will make a difference.
OUR MISSION
To find a cure for pediatric brain cancer by supporting visionary doctors in pediatric oncology, funding new research in the field, raising awareness of our cause, and enriching the lives of the brave children struggling with this disease.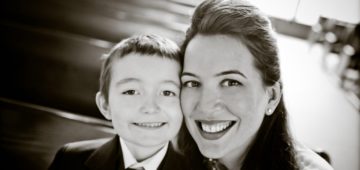 WHY
There should always be hope. No one should ever lose a child or a loved one because of a lack of funding for research.
Every day in the United States, nearly a dozen children are diagnosed with brain and other central nervous system (CNS) tumors. These comprise the third most common type of childhood cancer, behind leukemia and lymphoma, and the deadliest form. Of the approximately 4,200 children diagnosed with these lethal tumors (of which approximately 2,000 are brain cancers) each year, fewer than 20 percent will survive. This is despite decades of research conducted at medical centers across the United States.
Even those who do survive often face recurrence as well as serious long-term effects that can include cognitive deficits, neuropathy, hearing loss, and other conditions stemming from both their disease and the impact of treatment on developing brains. Thus for many, survivorship can mean physical impairment, learning challenges, and emotional trials. Clearly, there is a need for developing more effective, less toxic therapies that will increase the survival of children with brain cancer while also assuring them a higher quality of life.
Providing renewed hope for children with brain cancer requires a new way of thinking. Unfortunately, pediatric cancer researchers have reached a point of diminishing returns using the current approach, which relies on forprofit industrial concerns to develop and test new treatments. Biopharmaceutical companies, perceiving inadequate return on financial investments in research for so-called "orphan" diseases with small patient populations, have little incentive to investigate new therapies for pediatric brain tumors. However, industry can provide pediatric oncologists—to whom falls the challenge of developing and implementing new treatments for these cancers—with a model that harnesses metrics and milestones to implement new therapies within academia.
We don't want one more family member to ask "Is there anything or anyone that can help?" and have the answer be: "I don't know."
Let's try. Let's know. Let's not give up. Ever.
To learn more or see how you can help visit: