God knows us well—after all, He made us! Helping kids truly understand how much God wants to know them and speak into every aspect of their lives is so important. We are seen and so valued by a loving God!
More and more often I hear about people feeling alone—feeling like no one cares. Even more specifically, some children feel like no one wants to know them. What if we, as parents, got into the habit of helping kids battle these lies with something as simple as a note? What might happen if your child opened a promise-filled letter from you when he feels sad or angry or lonely?
In our family, we've started a tradition of writing "I Am Known" letters—letters specifically tailored to tough times in our children's lives. For example, one of our kids often feels overwhelmed by schoolwork. He becomes very self-defeating and says things like, "I'm not smart. My work is so sloppy. I'll never get this." He feels like a failure.
We might give him a letter that has, on the outside, his name and the words "Open when you're feeling like a failure." Inside this letter would be a passage of Scripture, Psalm 139:14–16, that directly contradicts the enemy's lies. These verses would be followed by words of encouragement and affirmation from us, his parents. God's perfect truth would spill off the pages and become real in his life!
We hope to create a collection of letters for our children to pull from as they grow and face new struggles in their lives.
You can start this tradition too! Just grab a sheet of paper, a pen, and an envelope. Set aside time to pray about what your child might need to hear from the Lord about particular topics or feelings. Then write a short letter to your child. Be careful not to offer advice in the letter; instead fill the letter with Scripture verses about that topic, and give encouragement and affirmations about what you see in your child's character. Seal the envelope, and write your child's name and the kind of situation in which she should open the envelope.
Great Scripture for helping kids feel known by God in your "I Am Known" letters:
When you feel alone—Romans 8:38–39
When you feel brokenhearted—Psalm 34:18
When you feel depressed*—Psalm 126:5
When you feel discouraged—2 Thessalonians 2:16–17
When you feel helpless—Romans 8:31
When you feel left out—Ephesians 1:11–12
When you feel like a failure—Psalm 139:14–16
When you feel lost—Ephesians 3:20
When you feel sad—Zephaniah 3:17, Revelation 21:3–4
When you feel scared—Deuteronomy 31:6
When you feel ugly—Genesis 1:27
When you feel unloved—1 John 3:1, Jeremiah 31:3
When you feel unsure about the future—Jeremiah 29:11
When you feel worthless—Exodus 19:5
*This refers to the feeling of being depressed, not clinical depression.
Encourage your children to keep their letters and to read them again when they start battling the lies thrown their way. Remind them that God sees them and that they're never alone. God wants to make Himself known to them.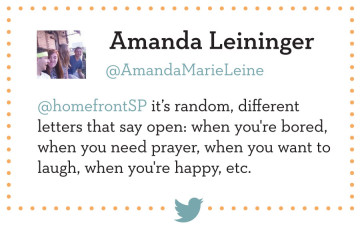 This article was inspired by @AmandaMarieLeine on Twitter.