I've worked at a church for more than 15 years now, and eaten somewhere around 3,000 lunches at my desk. Ministry can be much like parenthood—there is ALWAYS something that needs our attention—right now.
A few years back, one of my co-workers had the genius idea for an all-staff "crock pot luck." She sent out an email inviting everyone to participate, and participate they did. Many showed up early in the morning to get their contributions going so they would be done in time for lunch. Some combined their efforts; one brought the main dish and others brought the toppings. They brought main dishes, side dishes, bread, and dessert—anything that would cook in a slow-cooker was offered that day. Others brought salads to go with the hot dishes. And quite a few just showed up to eat. But that didn't matter, because for one of the few times in all the years I had been there, we ALL gathered in the staff lounge, got our yummy food, and sat down and ate together. It was a beautiful picture of love poured out in creativity, generosity, appreciation, gratitude, and fellowship.
This month, consider having a Crock Pot Luck with your faith community. Here are a few fun recipes to get you started.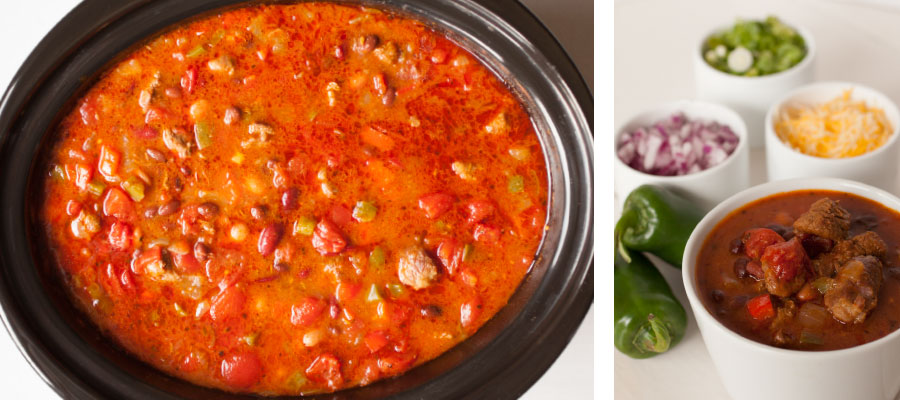 Hearty Sirloin Chili
Prep Time: 30 min.
Cook Time: 6 hrs.
Yields: 6 servings (doubles easily)
What You'll Need
3 tablespoons olive oil
1/2 cup flour
salt and pepper
2 pounds sirloin, bite-size chunks
2 large onions, chopped
3 cloves garlic, chopped
1 green bell pepper, seeded and chopped
1 red bell pepper, seeded and chopped
2 jalapeños, seeded and chopped (optional)
2 tablespoons chili powder
1 tablespoon cumin
1 teaspoon oregano
3 cups beef stock
4 cups canned crushed or diced tomatoes
2 (15 ounce) cans black beans, drained and rinsed
1 (15 ounce) can kidney beans, drained and rinsed
1 (15 ounce) can pinto beans, drained and rinsed
garnish: shredded cheese, red onion, scallions, chopped fresh tomatoes, chopped jalapeño, sour cream, tortilla chips
* For an easy metric conversion chart, search the Internet for "metric kitchen."
What You'll Do
In a large resealable bag, combine salt, pepper, and flour. Toss sirloin cubes with flour to coat. Shake off excess flour.
Heat oil in large heavy pot over medium-high heat. Cook and stir sirloin in pot until browned on all sides. (This is the key to deep flavor!) Remove meat to a plate.
If necessary, add more oil to pan and add onions and garlic. Cook onions and garlic over medium heat until onions begin to soften. Stir in green and red peppers (and jalapeño, if you choose), and cook for 3 to 5 minutes. Add chili powder, cumin and oregano. Stir until fragrant.
Combine sirloin and vegetables in crock pot, add broth, beans, and tomatoes, and stir gently until blended. Cook on HIGH for 6 hours or LOW for 10 hours.
Serve with garnishes.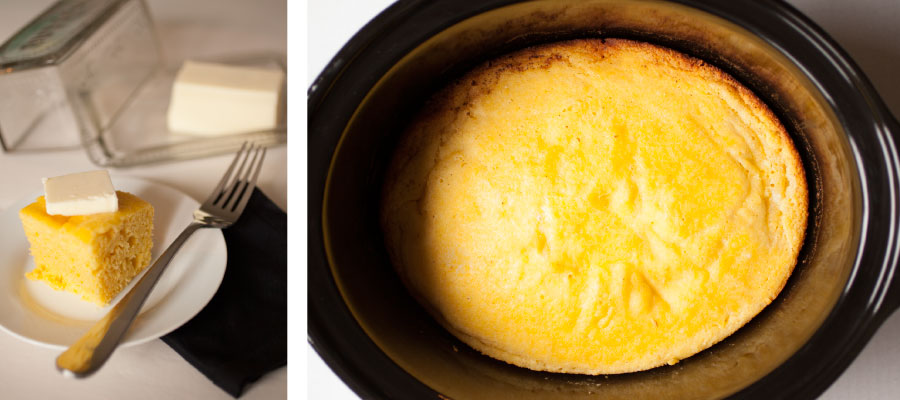 Slow Cooker Cornbread
Prep Time: 10 min.
Cook Time: 1 1/2 – 2 hrs.
Yields: 8 servings
Ideal Slow Cooker Size: 6-quart
What you'll need
1/4¼ cup butter
1 1/2 cups cornmeal
1 1/2 cups all-purpose flour
2 tablespoons sugar
1 tablespoon baking powder
2 cups buttermilk
2 large eggs
*
For an easy metric conversion chart, search the Internet for "metric kitchen."
What You'll Do
Melt butter in a 6-quart slow cooker on HIGH heat, and spread it around so it coats the bottom of your slow cooker.
Stir together cornmeal, flour, sugar, and baking powder in a medium mixing bowl. Then stir in buttermilk and eggs. Pour the mixture over the melted butter and spread evenly.
Cover the slow cooker and cook on HIGH for 2 hours.
Use a toothpick to check for doneness. Insert the toothpick into the middle of the cornbread.

 

If it comes out clean, it's done.
Let cornbread cool slightly and serve with a spoon.
Apple Crisp with Walnut Topping
Prep Time: 30 min.
Yields: 6–8 servings
Cook Time: 2–4 hrs. depending on heat setting (see below)
What You'll Need
Filling
1/4 cup butter, melted
3 tablespoons granulated sugar
1 1/2 teaspoons all-purpose flour
1/4 teaspoon ground ginger
1/4 teaspoon ground cinnamon
6 large tart cooking apples, cut into 1/2-inch wedges (10 cups)
Topping
1/2 cup all-purpose flour
1/4 cup granulated sugar
1/4 cup packed light-brown sugar
1/4 teaspoon ground cinnamon
1/8 teaspoon ground nutmeg
1/4 cup butter, cut into pieces
1/2 cup chopped walnuts
vanilla ice cream, optional for serving
* For an easy metric conversion chart, search the Internet for "metric kitchen."
What You'll Do
Filling
Coat the bottom of a 4-quart slow cooker with melted butter; set aside.
In an extra-large bowl, combine granulated sugar, flour, ginger, and cinnamon.
Gently stir in apples. Transfer apple mixture to the prepared cooker.
Topping
In a small bowl, stir together flour, granulated sugar, brown sugar, cinnamon, and nutmeg.
Using a pastry blender, cut in butter until mixture resembles coarse crumbs. Stir in walnuts. Sprinkle topping over apple mixture.
Cover and cook on LOW for about 4 hours, or on HIGH for about 2 hours (partially uncover in the last 30 minutes to harden the topping), or until apples are tender. If desired, serve with ice cream.