Before my husband and I got married, we had a plan. A planner at heart, it was only natural that I would set a course for my husband and me to follow. It went something like this: get engaged, graduate college, get married, buy a house, be financially secure, and then have four kids (2 boys, 2 girls), and live happily ever after.
As you may have guessed, the plans didn't play out exactly how I envisioned. We got married at 20, moved into a tiny studio apartment, then graduated college, and decided to start a family. The desire to adopt had been in me for as long as I can remember, so I brought it up to my husband to see what his thoughts were. He gave an immediate, "Yes," and we decided that we would love to adopt a child someday. When it came time for us to start a family, neither one of us could get the idea of adoption out of our heads, so we decided to pursue adoption through our local foster care system. Adoption was our plan A, our first choice to start our family. We came up with a new plan, which was to adopt one child through foster care and then have a biological child.
We went through the process of becoming foster parents, which included 24 hours of parenting classes, preparing our home for inspection, an extensive application, and more paperwork than you could ever imagine. We were completely out of our comfort zone and didn't really have any friends who had grown their family this way. It was a time of stepping out in faith and trusting God to build the family He wanted us to have. We became a licensed foster family at the end of 2011 and three weeks later, only 10 days before Christmas, our baby boy, Nolan, came home. He was four months old, had big brown eyes, and stole our hearts immediately. We settled into being a family of three and enjoyed our life as parents!
Since we had such an amazing experience the first time, we threw our plan out the window and asked God what He would have us do. The answer was to pursue another adoption. We updated our home study and again became a waiting family. A couple of months later we got a call from our social worker asking if we would like to be considered as potential parents for a little boy named Sebastian. They called before matching us because Sebastian had some unique needs. He was born at only 24 weeks gestation, which comes with a vast array of health issues. At birth he was 1 lb. 6 oz. and 12 inches long. I did what anyone would do; I did an online search of every potential short- and long-term health problem associated with micro preemies. I didn't feel equipped to be a mother of a child with special needs facing a long NICU stay and a possible lifetime of special needs. I was afraid and logic told me to say "no," that it was just too much. But God said "yes," so we gave our "yes" and became parents to a tiny miracle baby. We quickly became a NICU family, experts on our son's medical care, and spent as much time as we could in the hospital holding our baby.
Three weeks later we got a very unexpected call from our social worker. She informed us that Nolan's older biological sister needed to be adopted and needed a home immediately. She was two at the time, only 10 months older than Nolan. This time we didn't even have to ask God what we should do. Our "yes" was immediate and we picked up our daughter, Delilah, the next day. We jumped from a family of three to a family of five in less than a month. I was the mom of two two-year-olds and a baby in the hospital. It wasn't how I had envisioned my life, but God was transforming me daily as I raised our three kids. After 143 days in the NICU, Sebastian came home and we were all finally together under one roof.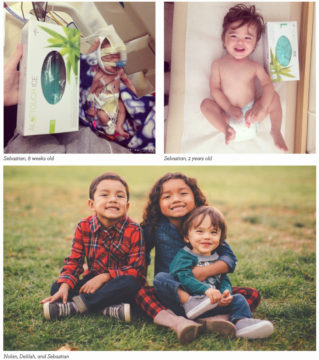 Now Delilah is five, Nolan is four, and Sebastian is two. We are expecting a cerebral palsy diagnosis for Sebastian. I am a mom of a child with special needs, not a role I ever expected to be in, but a role that I now love and cherish. God helped me push past my fear and discomfort and moved me into a space of gratitude and peace. God's plans were so much better and full of so much more joy than anything I could have planned myself. All I did was step out in faith and He transformed my life and my family for His glory.