Recently I found myself at my parents' house, the childhood home I grew up in, watching old VHS videos (remember those?) of my childhood. Our three young children love to see pictures and videos of my wife and I as kids, and so there we sat on the couch looking back at my kindergarten self.
As I am child of the 80s one would think that my boyhood heroes would have been He-Man or Mr. T or Zach Morris. No, my hero was Alex P. Keaton. That's right. The calculator-toting, briefcase-carrying, Reagan-loving, business-minded teenage character played by Michael J. Fox in the television series "Family Ties." He was my idol.
Back to those VHS videos. All of us sat together watching my kindergarten self skipping around the playground in a three-piece suit. Yes, I confidently wore a suit jacket, vest and pants, all charcoal grey with a button-up shirt and coordinating tie. Oh, and of course, I had a briefcase, too, to carry my schoolwork. (I think I was just way before my time because now Pinterest boards are filled with little hipster kids all dressed up and looking sharp.)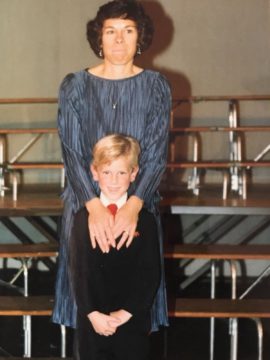 Looking over at my five-year-old son, who is soon starting kindergarten himself, I felt tempted to put him in a suit to relive my childhood through him—as if donning the suit would give him that same childhood confidence I had and put him on a trajectory of success, productivity, and business-mindedness.
Isn't that what we're tempted to do as dads? Remake our children in our own images or the images hoped for and maybe unrealized? Redeem our past mistakes by not letting them make the same ones? Or relive our childhood glory days through them? While I understand the temptation to do so, I'm realizing that this is not in line with my God-ordained responsibilities as a parent.
I don't want to make my kids in my image. Instead, I want to join with God as He makes them in His image. I don't want to see them modeled after me – I want them to model Christ, and the fruit of Christ they see in me. I don't want to force my interests or my nature on them, but pay attention as God reveals their uniqueness. I don't want them to be confident enough to wear a suit. Rather, I want them to be confident enough to be themselves.
Whenever I find myself preoccupied with the external qualities of my kids, like how they dress, what their hair looks like, or what things they are involved in, I pause to remember what matters most as described in Colossians 3:12 (NLT):
Since God chose you to be the holy people he loves, you must clothe yourselves with tenderhearted mercy, kindness, humility, gentleness, and patience.
Today I clothe myself in those things. As a dad, I want to be full of tenderhearted mercy, kindness, humility, gentleness, and patience. It's my prayer that others would see those things in me too. That beyond what I wear or my interests or hobbies, they would see me living out these words and the character of Christ. I pray too, as my kids skip about the playground themselves or play in the neighborhood, that they would model these things to their classmates, friends, and teachers. Oh, and for the record, my son does want to wear a suit to kindergarten, albeit a Spiderman one.