Cooking for people I love is one of my favorite ways of serving. It really gives meaning to the phrase "cooking with love" when I get to watch the people I adore enjoy what I made for them. This Brown Sugar Brie appetizer never fails to put a smile on friends' faces. It is constantly requested at family get-togethers, and is sure to be a crowd pleaser, especially at your Easter brunch!
Prep Time: 10 min.     Cook Time: 25 min.     Serves: 10–12
What You'll Need to Make Brown Sugar Brie:
1 wheel of Brie cheese (13.4 ounces)
2 (11-ounce) cans refrigerated French bread dough
1/2 cup butter (1 stick), melted
1/2 cup brown sugar
1 cup pecans
* For an easy metric conversion chart, search the Internet for "metric kitchen."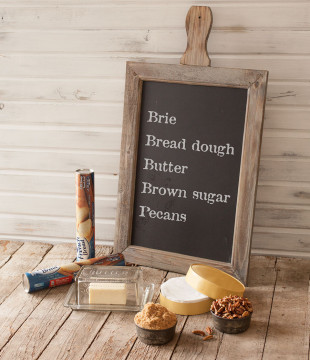 What You'll Do to Make Brown Sugar Brie:
Preheat oven to 350° F.
Remove paper wrapper from the wheel of Brie (leave the skin). Place it in the center of a baking dish.
Form a circle of French bread dough, wrapping it around the Brie.
With a knife, poke 10 holes in the bread.
Pour the melted butter evenly over the bread.
Sprinkle the brown sugar over the bread, and press it into the dough as you go.
Sprinkle the pecans over the whole dish.
Bake for 25 minutes, or until bread is golden brown.
Slice and serve warm.