An interview with Amber Hawthorne, founder of Bambu Earth, a company that makes natural, ethical, and sustainable skincare and donates some of its proceeds to mission work around the globe.
Q: Tell us a little about your family.
A: My husband and I met eight years ago in college and have been in love ever since. We have a one-year-old daughter who is spunky, joyful, and full of energy! We want a lot more kids and would love to adopt someday.
Q: Why (or how) were you inspired to start Bambu Earth?
A: I've always been creative. I started out making a melt-and-pour (glycerin) type soap from the craft store. I was just curious about making soap in general. (Who wouldn't be?) Around the same time I started learning more about the ingredients in our food and skincare. I always thought if a product was on the Bambu Earth shelf at a store, it must be safe. I was horrified to find out what kind of harmful ingredients we were consuming and putting on our skin (especially since our skin absorbs up to 60 percent of what goes on it)! I tried to find a glycerin soap base that was truly natural with no success. I decided to formulate my own soap from scratch so I could know exactly what was in my soap and where the ingredients came from. I haven't looked back since!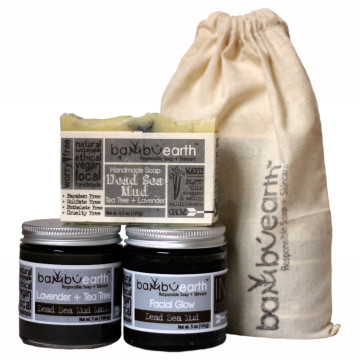 Q: What does it mean to have "worry-free" soap and skincare?
A: When I started Bambu Earth, there were (and still are) a lot of products that look natural and even claim to be natural, but they contained ingredients that weren't natural, or sometimes they would be natural but the ingredients were unethically sourced. There are no certifications or regulations on the words "natural" or "eco-friendly." Anyone can use eco-friendly terms and put
a product in a green bottle, and the average consumer will think they're purchasing a chemical-free product. It can be exhausting to sift through so many products, and many people give up looking for safe alternatives. It was then that I decided to make an entire brand of "worry-free" products that people can feel great about buying. We don't just use natural ingredients. We use ingredients that are ethical, sustainable, organic, and fair-trade. We source locally wherever possible and get our shea butter from a women's cooperative in Ghana that supports local communities. We go even further with reusable glass packaging, and our soaps are wrapped in seeded paper that grows wildflowers! We strive for a product that is truly "worry-free."
Q: How did responsibility play into the development of Bambu Earth?
A: The Bible says, in Colossians 3:23–24, "Whatever you do, work at it with all your heart, as working for the Lord, not for human masters, since you know that you will receive an inheritance from the Lord as a reward. It is the Lord Christ you are serving." When developing Bambu Earth, I knew I had a responsibility to God and my customers to put forth my best work. God has blessed me with this great talent, vision, and passion. And His creation is really my biggest inspiration. God thought of everything when He created us, and the nature He's entrusted to us is full of herbs, plants, and botanicals that promote healing and provide natural skin benefits that are far superior to manmade ingredients. I feel it's our personal responsibility not only to use nature as God intended but also to take care of what He has given to us.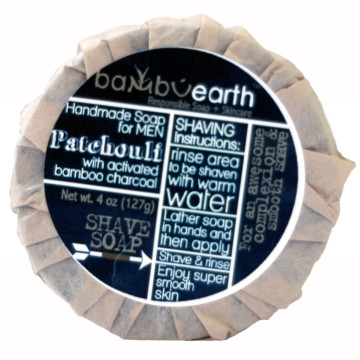 Q: Where do you make your products?
A: I started Bambu Earth in our kitchen! At that time I had a few customers (mostly family and friends), and I made products from our home. Soon Bambu Earth started taking over our house, and we had to move the soap-making studio into our garage to keep up with the local and online orders. Shortly after, we hired our first employee, and soon we will move into our first brick-and-mortar store in Mission Viejo, California! It's a dream come true!
Q: How do you decide what kind of soaps to make?
A: This is the part I love the most! My passion for soapmaking is really the driving force behind Bambu Earth because I'm a creative at heart (it's proof we were made in God's image)! I love experimenting with new combinations of essential oils, herbs, spices, and base oils to make a brand new product! I also really love for our products to go beyond the ingredients and do something meaningful. We love offering soap favors for weddings, baby showers, and special occasions. It's pretty awesome to know that we get to be a part of making someone's day special. We also love creating products that partner with and support things like missions and community projects. Right now we are partnering with Celebrate Hope Ministries with our Ugandan Mint Coffee Soap.
Q: We love Celebrate Hope Ministries! What does your partnership look like? 
(See our exclusive article with the founder of CHM in our November 2014 issue.) 
A: Celebrate Hope Ministries is a ministry in Uganda that provides families with the tools and plants they need to grow and harvest coffee. For just $450, one coffee farm can change a family's economic future for generations. We feel the responsibility to help beyond just giving money. We love that CHM is not just charity; it's a holistic approach to solving an economic issue that gives these families the tools they need to continue to thrive for years to come. We use the actual roasted beans from one of the Ugandan family farms in our soap (after we make a pot of coffee, of course), and 100 percent of the proceeds from the soap goes to Celebrate Hope Ministries so that they can provide more farms to families. Our goal in 2015 is to provide 10 families with their very own coffee farms!
Q: What's next for Bambu Earth?
A: We continue to put Bambu Earth before God and ask Him what He has in store. I believe the next step is to focus on our retail store and to do it really well. We want to be a staple in the community. A place where people come not just to buy soap and skincare but to be inspired by truly responsible products, learn about ingredients, make friends, and experience Jesus. He's also recently put on our hearts a desire to provide wells to communities in countries that don't have access to clean water. For just a few thousand dollars, so many lives can literally be saved! We are really excited to start that adventure!
Find out more about Bambu Earth
www.bambuearth.com
www.fb.com/bambuearth
www.twitter.com/bambuearth
www.instagram.com/bambuearth
www.youtube.com/bambuearth
www.pinterest.com/bambuea