I go to an amazing small group every other week where we start our time off with dinner together. Sharing a meal is a great way to break the ice and get to know people on a deeper level. Something about eating together is powerful – walls are broken down, it's easier to be vulnerable and conversation naturally flows.
We do each meal pot luck style and switch off who brings the main dish. Getting a main dish together in time can be difficult for me as I work full time about an hour away from our home. I rely heavily on crock pot recipes to get the job done. Even if you're not crunched for time, these recipes are sure to be a hit!
Crock Pot Lasagna Soup
I definitely don't have time to put together a homemade lasagna, but this Lasagna Soup would be a delicious substitute.
Crock Pot Honey Chicken and Rice
from Confessions of a Homeschooler
5 minute prep time? Yes please! Delicious and easy chicken and rice recipe.
Crock Pot Spinach and Artichoke Dip
Spinach and artichoke dip is a classic delicious staple to any good party. This recipe includes some great ideas for keeping the calories under control.
Crock Pot Creamy Italian Chicken
I love anything Italian and this recipe is sure to please all of the Italian food lovers at your gathering this week!
Crock Pot Hearty Sirloin Chili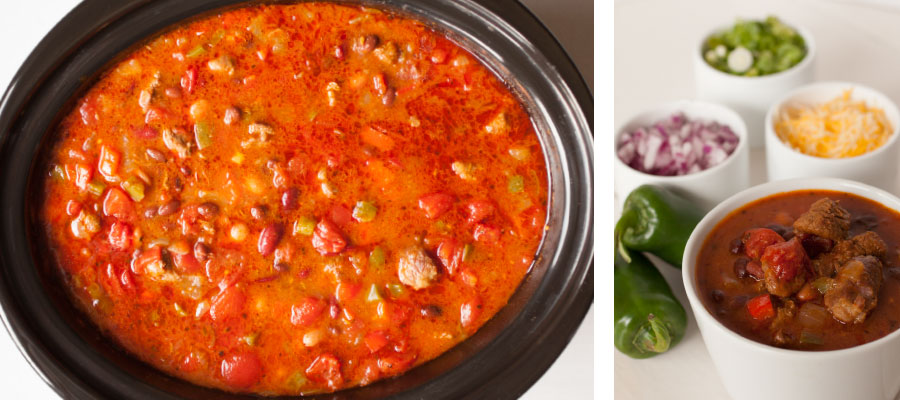 Need a great chili that's sure to fill a hearty appetite? Look no further than this Hearty Sirloin Chili. Paired with toppings like jalapeño, onion or cheese, this chili is sure to please!
Crock Pot Breakfast Casserole
Breakfast is by far my favorite meal of the day. So why not have it for dinner too? My small group had a breakfast themed dinner once and this recipe would do the trick! It's also a great recipe to have on hand for when the in-laws come to town.
Crock Pot Extra Cheesy Macaroni and Cheese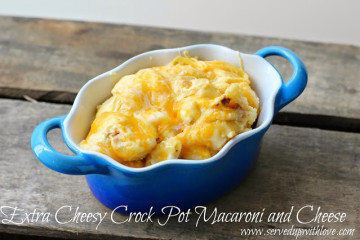 My husband likes to joke that I eat like a five-year-old. Well, five year olds definitely like macaroni and cheese and so do I! But I'm pretty sure lots of other adults would love a good old-fashioned bowl of mac 'n cheese. This would by a great addition to any pot luck or family gathering!
Crock Pot Cheesy Chicken and Rice
Speaking of cheese, who doesn't love a classic like chicken and rice? Add a bunch of cheese and you've got the makings of a pot luck favorite!
Crock Pot Chicken Tacos
from Confessions of a Homeschooler
Tacos are easy and fun, and everybody likes them! Give this simple recipe a try at your next event.
Crock Pot Three Bean Chili
This is a great, meatless chili that is still hearty!
Crock Pot Cornbread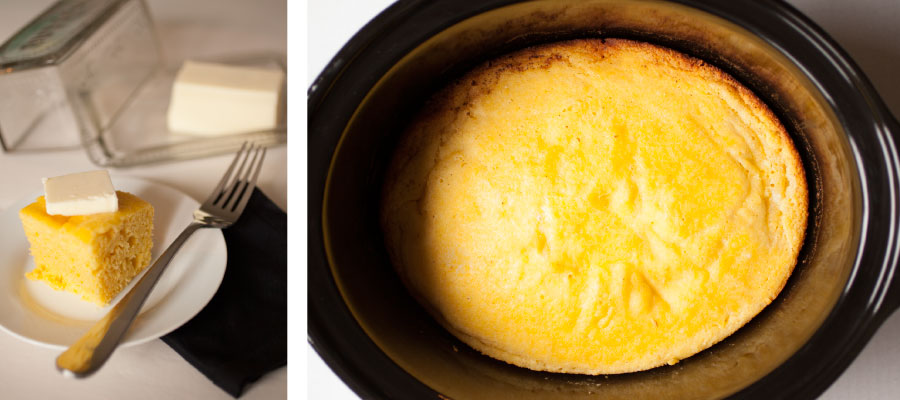 No chili is complete without a side of cornbread! Try this great cornbread recipe you can make in your crockpot.
Crock Pot White Bean and Ham Soup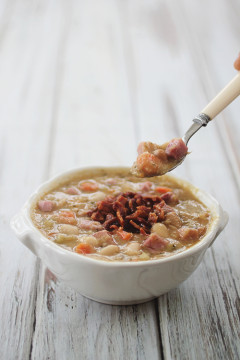 Perfect for a cold day, or just when you're in the mood for soup! It's rich, creamy and super satisfying.
Crock Pot Cowboy Casserole
Loaded with potatoes, beans, beef and cheese, this delicious casserole will be a crowd pleaser for sure!
Crock Pot Pork Chops
from Confessions of a Homeschooler
Everyone in your family or at your gathering will love these super easy-to-make pork chops. Serve with mashed potatoes and your favorite veggie for a complete meal.
Crock Pot Apple Crisp with Walnut Topping
from HomeFront Magazine
This is the perfect crock pot dish to bring when you're in charge of dessert! Garnish with a scoop of vanilla ice cream for a delicious finish to a meal.