To be completely honest, prayer often feels overwhelming to me. I tend to be a very "black and white" person who wants to know she's doing things the right way. So when it comes to prayer, and especially prayer requests, I often feel lost.
I constantly wonder what or whom to pray for, how long to pray, and how often I'm supposed to pray for each person or situation. I feel overwhelmed by the number of things I could be praying for and discouraged by my own apathy and the numbness I sometimes feel towards the suffering that surrounds me.
Much of prayer is bringing our burdens to God and trusting Him to take care of them, yet ironically I feel burdened by the responsibility I have to pray, even though I know it's a privilege and blessing to be able to do so.
My encouragement comes from Scripture, as I am reminded in Matthew 6 that God knows what we need before we ask Him and that Jesus hasn't left us alone in this. Jesus modeled prayer for us.
As I seek to model prayer for others, I take comfort in the fact that I'm not the source of what I am seeking to model, but I'm in the process of following a model myself. My job is to look again and again to Jesus and then to echo these words of Paul: "Follow my example, as I follow the example of Christ" (1 Corinthians 11:1).
I know that I will never be perfect at prayer, but I am trusting God to shape even this part of me, asking Him to give me more of a heart of dependence on Him that will drive me to pray without ceasing, and asking Him to continually turn my eyes off of myself that I may gaze at Him in all His perfection and praise Him, in prayer, for who He is.
This month, set aside a time, maybe around the dinner table or before bed, to intentionally follow Jesus' example of prayer and to model this for your children. Use this framework of address, praise, surrender, request, confession, forgiveness, and vision of a corrected path. Parents, you go first, modeling each element for your children and then letting them add their thoughts as you create this prayer together as a family.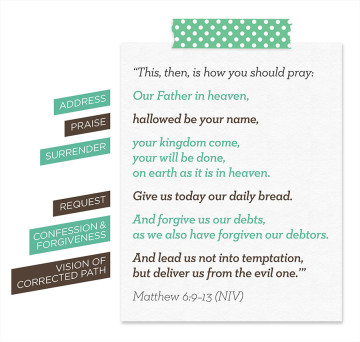 (address) Heavenly Father,
(praise) You are _________.
(situation to surrender) Have your way in _________.
(request) I ask for _________.
(confession and forgiveness) Forgive me for _________ and help me to forgive _________.
(area of corrected path) Help me to be more like you in _________. 
Be sure to also spend time together thanking God for the prayers He has already answered and acknowledging the ways you see Him at work in your life and in your family!